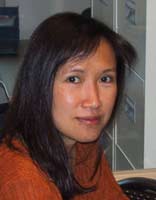 ---
---
Bachelor of Arts in Biology at Illinois Wesleyan University. Bloomington, IL. USA 8/1981-5/1985
Graduate Fellow. Southern Illinois University, Department Behavior Analysis & Therapy. Carbondale, Illinois. USA. 1985-1988
Master of Science in Behavioral Psychology at Southern Illinois University, Graduate School. Carbondale, IL. USA. 8/1985-6/1988
Thesis: A Call-in Procedure to Increase Compliance of Relaxation Training.
Therapist. Center for Comprehensive Services for the traumatic brain injured. Carbondale, Illinois. USA. 1988-1990
Therapist/Clinical Supervisor. Family therapy and crisis intervention. Youth Service Bureau, Springfield, Illinois. USA. 1990-1993
Research Assisstant Laboratory of behavioural pharmacology. Northwestern University, Department of Pharmacology, School of Medicine, Chicago, Illinois. USA. 1993-1995
Ph.D. in Neuroscience with emphasis on neurodegeneration. at Karolinska Institutet, Huddinge University Hospital. Huddinge, Sweden 7/1997-11/2000
Thesis: Effects of Neonatal Handling and Enriched Environment on Neurotrophins and Cognitive Function.
Post-doctoral Research Fellow, laboratory of experimental geriatrics at Karolinska Institutet, Department NEUROTEC, Sweden. 2001-2002
Post-doctoral Research Fellow, group of environment, behaviour & well being of laboratory animals Karolinska Institutet, Department of Neuroscience, Sweden 2002-present




---
ABSTRACT
Environmental stimulation plays a critical role in the development and maintenance of behaviours and neural processes. Two experimental models that have guided research on behavioural and neural plasticity are Postnatal handling and Environmental enrichment.
The development, maintenance and function of the nervous system depend on neurotrophic factors. The neurotrophic factors constitute a group of target derived protein family with highly diverse functions for neurones survival, guidance, growth and phenotypic maturation. Three neurotrophic factors were examined in this thesis: Nerve growth factor (NGF) including NGF receptors, Brain-derived neurotrophic factor (BDNF) and Neurotrophin-3 (NT-3). The studies included in this thesis investigated the relationship of environment neurotrophins and behaviour. Postnatal handling of rats has been shown to alter the development of the stress response system at the cortical level. The underlying mechanism and the effects on cognitive function following postnatal handling are still unclear. In paper I, the behavioural effects of chronic mild stress on postnatal handled (H) and nonhandled (NH) rats were examined. In addition we also examined if exposure to mild stress would alter hippocampal nerve growth factor levels. In contrast to the reported deleterious effect of acute strong stress, exposure to mild stimulation for five months following postnatal handling resulted in improved spatial learning in H rats and increased production of hippocampal nerve growth factor in NH rats. Nonhandling lowered NGF levels and impaired spatial learning. To analyse further the influence of environmental effects on behaviour and NGF levels, we examined in paper II whether exposure to differential housing conditions would counteract the effects of early experience. After weaning, the H and NH animals were divided into 4 groups and were housed in either enriched (EC) or isolated (IC) environmental conditions. We found that housing in enrichment following nonhandling increased hippocampal NGF levels, and improved spatial learning. Our results therefore suggest that environmental enrichment has the potential to reduce the cognitive and neurochemical deficits in the nonhandled animals. In paper III, we examined the effects of long-term differential housing on NGF levels, its receptors and their relationship to cognitive function. Adults rats were housed in either enriched or isolated conditions for one year. At middle age, the EC animals had significantly higher levels of NGF in the hippocampus, entorhinal and visual cortices compared to the IC animals. Immunohistochemical analysis of the brain medial septal area also showed larger cell size and higher staining fibre density in both the low-affinity and the high-affinity NGF receptors. Middle aged EC rats performed better than IC rats in acquisition of spatial learning and had lower locomotion scores in the open field test. In order to determine if environmentally induced changes in NGF levels are associated with other neurotrophic factors and in different brain regions, we assessed in paper IV, NGF, BDNF and NT-3 levels in the cerebral cortex, hippocampal formation, basal forebrain, and hind brain of EC and IC middle aged rats. In general we found that NGF and BDNF levels were increased in all selected brain regions in the EC rats compared to age-matched IC rats. NT-3 levels were higher in the basal forebrain and cerebral cortex of EC animals. These findings provide possible biochemical basis of behavioural and morphological alterations that have been shown to occur with stimulus-rich environment. The results confirmed and extended our earlier observations that environmental stimulation results in increased production of trophic factors and structural reorganisation in specific brain regions known to be important for cognitive function. Paper V examined neurotrophins levels in separated hemispheres of H and NH animals. We found that postnatal handling increased NGF levels in the hippocampus. Furthermore hemispheric asymmetry in NT-3 levels was noted in the hippocampus, and also laterality of NGF levels in the dentate gyrus of the H rats. Our results also revealed higher NT-3 in the left basal forebrain and cerebellum of the H rats. Behavioural testing of H and NH rats caused changes in NGF and NT-3 levels in the basal forebrain, hippocampal and cerebellum.
These findings implicate neurotrophins in environmentally induced changes in brain and cognitive function.
Keywords: Postnatal handling, Postnatal nonhandling, Enriched environment, Isolated environment Neurotrophins, Behaviour, Rat.





Current Research Project
---
Full Publication List

---
Subchronic MK-801 treatment to juvenile rats attenuates environmental effects on adult spatial learning.
Liljequist R, BG Henriksson, N Latif, T Pham, B Winblad & AH Mohammed
Behavioural Brain Research vol. 56, 107-114 (1993).
Effects of neonatal stimulation on later cognitive function and hippocampal nerve growth factor.
T.M. Pham, S. Söderström, B.G. Henriksson & A.H. Mohammed
Behavioural Brain Research vol 86,113-120 (1997).
Effects of environmental enrichment on cognitive function and hippocampal NGF in the non-handled rats.
T.M. Pham, S. Söderström, B. Winblad & A.H. Mohammed
Behavioural Brain Research vol. 103, 63-70 (1999).
Neonatal handling in rats induces long-term effects on dynorphin peptides.
K. Ploj, T.M. Pham, L. Bergström, A.H. Mohammed, B.G. Henriksson & I. Nylander.
Neuropeptides vol. 33, 468-474 (1999).
Changes in brain nerve growth factor levels and nerve growth factor receptors in rats exposed to environmental enrichment for one year.
T.M. Pham, B. Ickes, D. Albeck, S. Söderström, A-Ch. Granholm & A.H. Mohammed.
Neuroscience vol. 94, 279-286 (1999).
Inhalation of low concentrations of toluene induces persistent effects on a learning retention task, beam-walk performance, and cerebrocortical size in the rat.
M. von Euler, T.M. Pham, M. Hillefors, B. Bjelke, B. Henriksson, and G. von Euler.
Experimental Neurology vol. 163, 1-8 (2000)
Long-term environmental enrichment leads to regional increases in neurotrophin levels in rat brain.
B. Ickes, T.M. Pham, L.A. Sanders, D. Albeck, A.H. Mohammed & A-Ch. Granholm.
Experimental Neurology vol. 164, 45-52 (2000).
Selective nicotinic receptor consequences in APPswe transgenic mice.
Paterson, D., Bednar, I., Marutle, A., Pham, TM., Svedberg, M., Hellström-Lindahl, E., Mousavi, M., Court, J., Morris, C., Perry, E., Mohammed, A., Zhang, X., & Nordberg, A.
Molecular & Cellular Neuroscience 20, 354-365 (2002).
Environmental influences on brain Neurotrophins in rats.
Pham, TM., Winblad, B., A-Ch. Granholm & Mohammed, A.
Pharmacology Biochemistry & Behavior 73, (1) 167-175 (2002).