Krister Kristensson, M.D., Ph.D.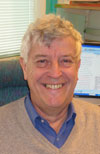 Neurodegenerative Disease Research
Research Focus
The research is focused on deciphering basic mechanisms by which infectious agents can propagate to the nervous system and how microbes interacts with neuronal cells to cause nervous system dysfunctions or neurodegeneration. Presently we are mainly investigating infections with prions and the African trypanosomes.
Selected Publications
Neural-immune interactions in disorders of sleep-wakefulness organization.
Trends in Neuroscience 30: 645-652, 2007
Inhibitors of the MEK1/2 Signaling Pathway clear Prion-infected Cells from PrPSc.
Journal of Neuroscience 25: 8451 8456, 2005
Cerebral vessel laminins and IFN-gamma define Trypanosoma brucei brucei penetration of the blood-brain barrier.
Journal of Clinical Investigation 114: 689-694, 2004
Scrapie protein degradation by cysteine proteases in CD11c+ dendritic cells and GT1-1 neuronal cells.
Journal of Virology 78: 4776-4782, 2004
Interferon-gamma induces characteristics of central sensitization in spinal dorsal horn neurons in vitro.
Pain 106: 241-251, 2003
Professor Krister Kristensson
Work:

08-524 878 25

Fax:

08-32 53 25
E-mail:
Department of Neuroscience
Karolinska Institutet
Retzius väg 8
S-17177 Stockholm, Sweden

Last modified by:
Ida Engqvist
2008-04-18