The Nobel Institute for Neurophysiology
Curriculum Vitæ for Peter Wallén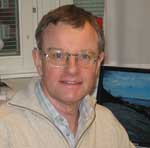 Academic background
1982 Ph.D. degree in Physiology, Karolinska Institutet.Thesis title: "Spinal Mechanisms Controlling Locomotion in Dogfish and Lamprey".
1986 Docent in Neurophysiology, Karolinska Institutet.

Academic positions
1975-79 Research assistant (amanuens), University of Göteborg and Karolinska Institutet.
1979-81 Senior lecturer (vikarierande universitetslektor), Högskolan för Lärarutbildning (GIH), Stockholm.
1979-82 Junior research associate (assistent), Karolinska Institutet.
1982-86 Research associate (forskarassistent, MFR), Swedish Medical Research Council.
1986-93 Docent position in Neurophysiology, Karolinska Institutet.
1993-present Senior lecturer (universitetslektor), Karolinska Institutet.
1995-present Director of undergraduate studies (studierektor), being responsible for the basic education program in Neuroscience at the Department of Neuroscience, Karolinska Institutet.

Supervision of doctoral and postdoctoral students
I am presently acting as supervisor for one graduate student. I have been main supervisor for one graduate student who defended his thesis in 2000, and I have been associate supervisor for two students who defended their theses in 1996 and 2004.
For more than 20 years I have contributed to the supervision of a large number of postdoctoral fellows visiting our laboratory, mainly together with prof. Sten Grillner. Current post-docs: Kazuya Saitoh ( Japan ), Ariane Menard ( Canada ), Natalia Tsvetlynska ( U kraine ) and Kenji Mizutani ( Japan ).

Scientific meetings
Since 1975 I have been regularly participating in different congresses and symposia, mostly as an invited speaker.
I have acted as member of the organizing committee for the following congresses and symposia:
1985 Neurobiology of Vertebrate Locomotion, Wenner-Gren Center , Stockholm
1990 Thirteenth Annual Meeting, European Neuroscience Association, Stockholm
1990 Workshop on "Confocal Microscopy - Possibilities and Limitations", Stockholm
1997 Neuronal Networks - Modulation and Intrinsic Function, Nobel Forum, Karolinska Institute, Stockholm
2001 Stockholm Workshop on Computational Neuroscience, Johannesberg

Publications
I have published 156 scientific papers, of which 84 are full-length articles.
Selected publications:
Cohen, A. H. & P. Wallén(1980). The neuronal correlate of locomotion in fish. "Fictive swimming" induced in an in vitro preparation of the lamprey spinal cord. Exp Brain Res 41: 11-8.
Russell, D. F. & P. Wallén (1983). On the control of myotomal motoneurones during "fictive swimming" in the lamprey spinal cord in vitro. Acta Physiol Scand 117: 161-70.
Wallén P. & T. L. Williams (1984). Fictive locomotion in the lamprey spinal cord in vitro compared with swimming in the intact and spinal animal. J Physiol 347: 225-39.
Wallén P. & S. Grillner (1987). N-methyl-D-aspartate receptor-induced, inherent oscillatory activity in neurons active during fictive locomotion in the lamprey. J Neurosci 7: 2745-55.
Wallén P., K. Carlsson, A. Liljeborg & S. Grillner (1988). Three-dimensional reconstruction of neurons in the lamprey spinal cord in whole-mount, using a confocal laser scanning microscope. J Neurosci Methods 24: 91-100.
Wallén P., Buchanan, J.T., Grillner, S., Hill, R.H., Christenson, J. & Hökfelt, T. (1989). Effects of 5-hydroxytryptamine on the afterhyperpolarization, spike frequency regulation and oscillatory membrane properties in lamprey spinal cord neurons. J Neurophysiol 61: 759-768.
Di Prisco, G. V., P. Wallén & S. Grillner (1990). Synaptic effects of intraspinal stretch receptor neurons mediating movement-related feedback during locomotion. Brain Res 530: 161-6.
Wallén P. (1991). Confocal microscopy in chemical neuroanatomy. J Chem Neuroanat 5: 387-95.
Wallén, P., O. Ekeberg, A. Lansner, L. Brodin, H. Tråvén & S. Grillner (1992). A computer-based model for realistic simulations of neural networks. II. The segmental network generating locomotor rhythmicity in the lamprey. J Neurophysiol 68: 1939-50.
Bacskai, B.J., Wallén P., Lev-Ram, V., Grillner, S. & Tsien, R.Y. (1995). Activity-related calcium dynamics in lamprey motoneurons as revealed by video-rate confocal microscopy. Neuron14: 19-28.
Wallén, P. (1997). Spinal networks and sensory feedback in the control of undulatory swimming in lamprey. In: "Neurons, Networks, and Motor Behavior", P.Stein, D. Stuart, A. Selverston & S. Grillner (eds), MIT Press, pp. 75-81.
El Manira, A. & Wallén, P.(2000). Mechanisms of modulation of a neural network. News in Physiological Sciences. 15: 186-191.
Grillner, S., P. Wallén R. Hill, L. Cangiano and A. El Manira (2001). Ion channels of importance for the locomotor pattern generation in the lamprey brainstem - spinal cord. J. Physiology, 553: 23-30.
Cangiano, L., P. Wallén & Grillner, S. (2002) Role of apamin-sensitive KCa channels for reticulospinal synaptic transmission to motoneuron and for the afterhyperpolarization. J. Neurophysiology 88: 289-299.
Grillner, S. & P. Wallén (2002) Cellular bases of a vertebrate locomotor system – steering, intersegmental and segmental co-ordination and sensory control. Brain Research Reviews 40: 92-106.
Grillner, S. and P. Wallén (2004) Innate versus learned movements – a false dichotomy? Progress in Brain Research, 143: 3-12.
---

Last modified:
2009-05-31